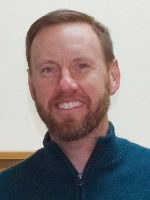 Pastor Brian was ordained in the Evangelical Lutheran Church in America in January 2003 following graduation with a Master of Divinity degree from the Lutheran School of Theology in Chicago.  Before entering seminary Pastor Brian graduated from Augustana College in Rock Island, IL with a degree in Religious Studies and Speech Communication.   Pastor Brian has served at First Lutheran Church in Le Sueur, MN as an associate pastor and at Christ the Victor Lutheran Church in New Berlin, WI.
He is married and his wife, Maren, is also an ordained minister.  They have two children, Norah and Ben.  Pastor Brian currently lives in New Berlin and is an avid sports fan.  He enjoys running and has completed over eleven marathons as well as the Iron Man Wisconsin.  He enjoys spending time with his family and laughing together.  Pastor Brian also enjoys reading and traveling.
Pastor Brian enjoys serving together with the people of God and living in God's marvelous light.