Christmas Cookie/Candy Sale
The women of SSM will have a Christmas Cookie/Candy Sale on December 10 and 11th. All proceeds will go to local and international charities. We are asking families in the congregation to donate a batch of their favorite Christmas cookies or candies. There is a sign-up sheet in the Narthex. You do not need to decide what you are making in order to sign up.  We will be collecting your donations on Friday, December 9 from 9 to 12
and Saturday, December 10 from 9 to 11. Do not package them for sale as we will be creating assortments of different cookies/candies to sell. Thanks in advance for your help with this worthy cause.
11/6/2022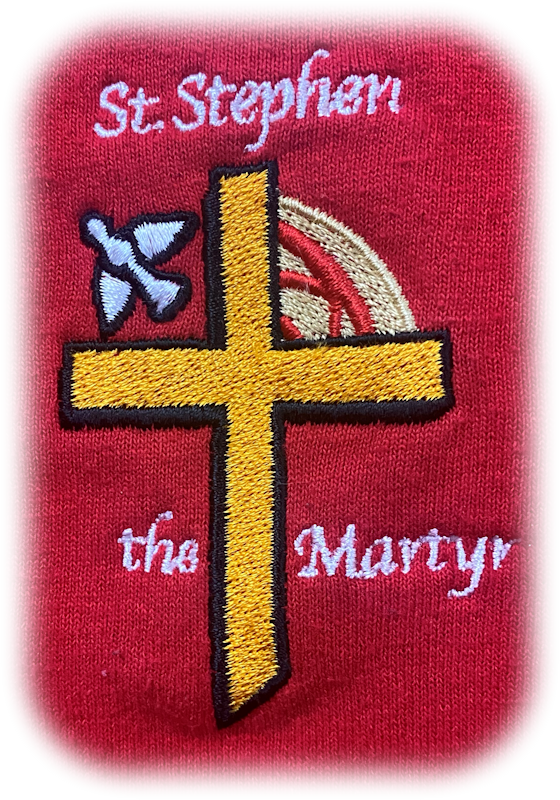 Beginning October 14th, we will be taking orders for SSM logo clothing including hooded and crew neck sweatshirts, long and short-sleeve t-shirts, and 2 types of Polo style shirts. The sale will end on October 24th with orders delivered to SSM in early December. Colors and sizes of each are dependent on availability and will be shared once the sale begins. NEW this year is ordering online via a secure link (preferred method) with paper order forms also possible. All items will have an embroidered left chest SSM logo as seen here. Check out the display in the narthex.
Click HERE to see a sample of the items offered.
Click HERE to go to the SSM store site (open 7:00 am on Oct 14th)
10/7/2022
Join us, in costume, for our Trunk or Treat event in the church parking lot on October 22nd from noon until 2pm. Trick or treat from car trunk to car trunk, participate in games and craft activities and enjoy fall snacks. (Treats and snacks will be available for those with food allergies.)
Sunday School will begin on Rally Day, September 11th. Sunday School children will join worship for the first part of the service and break into their classes after the children's message. Sign up the kids in your life now -grades 4K to 6th. Registration forms can be found on the table in the narthex. Blank forms are in the green folder, place completed forms in the blue folder. Forms can also be found online here or you can email Billie Jo, Sunday School Superintendent at .
8/28/2022
Choir and Handbell Rehearsals
Rehearsals begin on Wednesday, September 7. New members are always welcome. Come be a part of these fun, nurturing communities. Questions about either group? Please see Tabitha () or a current ensemble member.
Benefits of Singing in a Choir
1. Builds Community
2. Relieves Stress
3. Exercises the Brain
4. Improves Breathing, Posture, and Muscle Tension
5. Better Sense of Happiness and Well-Being
6. Be Part of the Music Ministry at SSM
8/21/2022