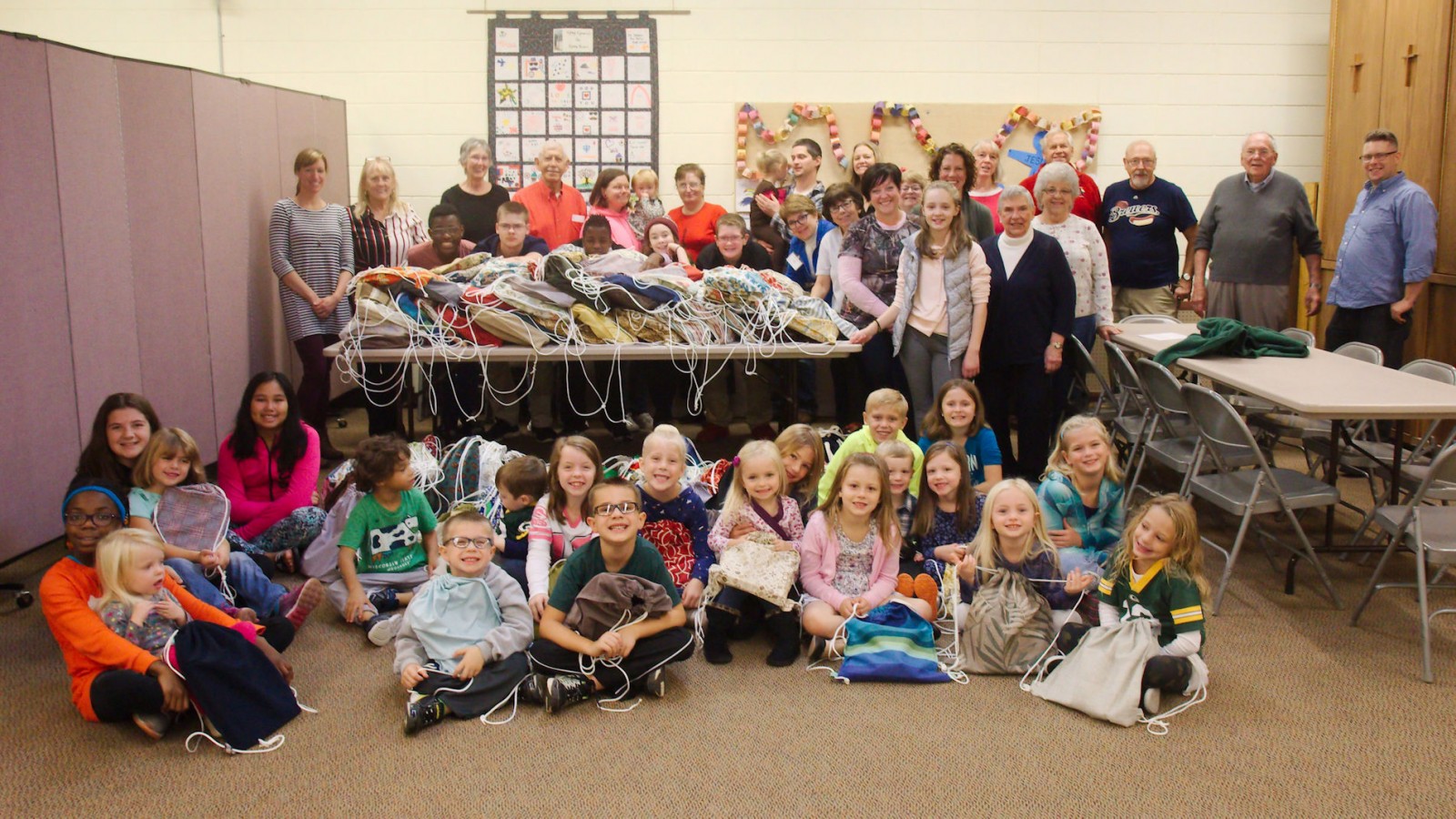 The Human Concerns Committee at SSM assesses and responds to the human needs of people both within the congregation and within the greater Milwaukee area as well as the world. It promotes morally responsible legislative advocacy and peacemaking.
We make every effort to provide those in need with some of the basic requirements for daily living. We are called to help those in need and we cheerfully do so in Christ's name.
Here are Some of the Ongoing Projects at SSM
Bread for the World    more
We continue to support this ministry through a yearly, monetary donation and we encourage members to advocate Congress to continue or increase programs providing food to the hungry.
Christmas Gift Giving
We collect gifts for children and seniors for the Bay View Community Center. We have a holiday sock and underwear drive when we collect new socks and underwear for our partner Unity Church and Divine Intervention/Tippecanoe for the homeless.
Divine Chocolate Candy Sales   more
This delicious fair-trade chocolate is offered at St. Stephen several times a year around Sweetest Day and Valentine's. The farmers of Kuapa Kokoo, Ghana, reap great benefits offering them a secure source of Fair Trade income.
Knit Wits!
Ladies of SSM who are handy with knitting and crochet needles get together monthly to make a variety of articles, some for our December Bake & Craft Sale, some for special needs like chemo caps for hospitals.  This is a fun and productive group.
Lutheran World Relief School Bags & Kits
The whole congregation gets involved in this wonderful project in some way, donating school supplies, making and filling school bags, designed to be like backpacks, for needy children at home and around the world.  The Sunday School children donate their high level of energy to fill the bags sometime toward the end of September.
May Care Baskets
Members of the Human Concerns Committee deliver baskets to members whose health prevents them from attending church services.
Meru Partnership with Mbasseney Parish in Tanzania  more
The Human Concerns Committee sends a representative to the Greater Milwaukee Meru meeting each month.  We support their diocese and education programs.
Mt. Meru Coffee Project   more
This tantalizing high-quality coffee is sold year-round in our narthex and in so doing, we provide God's love, hope, justice, and fair prices for the farmers who grow this coffee. Their motto: "Doing justice never tasted so good" makes us realize that helping people can be a tasty and enjoyable experience!
Special Offering Envelopes
Each year special offerings are taken during Lent, Easter, Thanksgiving, and Christmas services for important needs like the Outreach for Hope,  Repairers of the Breach, Meru Diocese, Hunger Task Force Milwaukee, LSS Refugee Services,  Good Gifts, Hope House, and more.
Food Pantry Food Collection for Bay View Community Center
We do not have a stocked 'food pantry,' but we collect food to give to food pantries in our community such as the Bay View Community Center. Monetary donations are always welcome so we can help the pantries buy more food at bulk prices.
Unity/SanteFe Partnership
The Human Concerns Committee has played an active role in the formation of a partnership with two churches on Milwaukee's south side, Unity and Sante Fe. This partnership has expanded to members of St. Stephen serving dinner the fourth Wednesday monthly at Unity's Soup Kitchen. We serve between 150 and 180 meals at these monthly dinners. The children of these churches gather with us for VBS each summer.
Divine Intervention / Tippecanoe – Help For The Homeless
St. Stephen the Martyr collects blankets and sleeping bags, underwear, socks, warm clothing, snacks, and toiletries throughout the year. Tippecanoe Presbyterian Church delivers these supplies to the homeless. Human Concerns provides four evening meals for the homeless when they sleep inside Tippecanoe from December 1 through March 31.
Our goals for the future:
Increase congregational participation in our partnerships with Unity Evangelical Lutheran Church in Bay View and Santé Fe in Milwaukee.
Increase member interest and involvement in a partnership with the Mbaaseny Parish from the Meru Diocese in Tanzania.
Model Christ's footsteps on earth by continuing established and new programs of giving to the poor and needy, while also caring for their souls.